Scrubber Gloves - Silicone Dish Washing Gloves
The IDEAL solution to any cleaner's arsenal!
These premium silicone cleaning gloves let you clean those pesky dishes and other kitchen utensils without needing to run them through the dishwasher or use invasive scrubbers that may ruin the enamel and plating!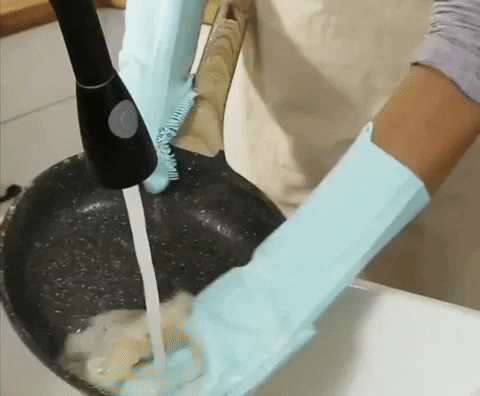 ✅ SCRUBBING MAGIC GLOVES, multi purpose rubber gloves with scrubbers can be used for cleaning dishes, kitchen, toilet, bathroom, car wash and also for dogs and cats massage.

✅ OUTSTANDING QUALITY AND VERY SOFT BRUSHES. Can easily clean dishes and  can quickly and easily be sterilized up to 320 degrees Fahrenheit, as well as placed into dishwasher.

✅ SUPER DURABLE & REUSABLE. Scrubber pals that one size fits all women and men, can use the same pair. In addition, they are oil resistant and heat resistant at 190 degrees Fahrenheit so they are built to last.

✅ ECO-FRIENDLY & SAFE. Made of high-quality food grade silicone. Use these scrubber gloves instead of your old matted, dirty ones to clean your home. NO Bacteria, NO Deformation, NO Residue. BPA and Latex Free.

✅ 100% SATISFACTION GUARANTEE. If you are not 100% satisfied with our gloves we offer a 30-day money back guarantee and life time replacement for defective items, Order NOW!